#7-HumptyDumpty



Released:

December 29, 2006

Views (Approximate):

38,000+

Series:

Franchise:

Misc.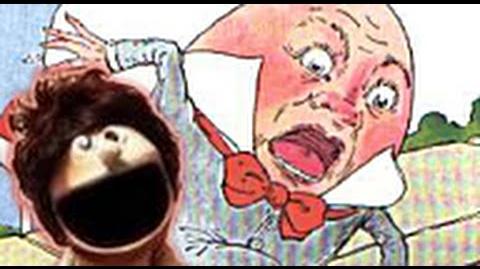 "
#7-HumptyDumpty
" is the 8th episode of
Skippy's Short Stories
.
Skippy tells the story of a big egg. A person wants to cook the egg, but the other person wants to put up a wall instead; so the other person reluctantly decides to put up a wall and tells the other guy that he wins the debate.
After building the wall, they decide to name the egg Humpty Dumpty. Suddenly, the wind picks up and this causes Humpty to fly over the wall and splatter on the ground, dead. Immediately, the knights come up with their horses. One knight asks a horse if he can fix it, to which he declines because he is a horse. Skippy then shouts, "STUPID!".
At the beginning, the title said "Lord of the Rings" instead of "Humpty Dumpty," which was a technical error.